Line 31:
Line 31:
 

{{clear}}

 

{{clear}}

 
 
−

====Snipe====

 
 

{{Ability Large|champion=Jade|name=Snipe}}

 

{{Ability Large|champion=Jade|name=Snipe}}

 

<u>'''Notes'''</u>

 

<u>'''Notes'''</u>

Line 37:
Line 36:
 
 
 

{{clear}}

 

{{clear}}

 
+
 

====Blast Vault====

 

====Blast Vault====

 

{{Ability Large|champion=Jade|name=Blast Vault}}

 

{{Ability Large|champion=Jade|name=Blast Vault}}
---
Revision as of 23:04, 15 February 2019
Stats
Type
Ranged
Health
210
Gold
950
Diamonds
300
Jade
The Lone Gunner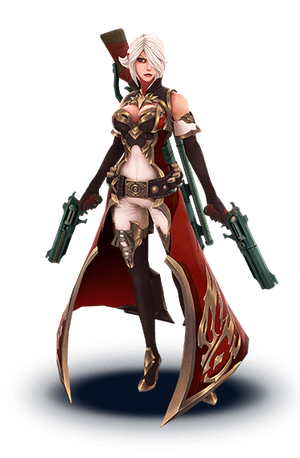 Bio
A mysterious gunslinger with a score to settle. Born with eagle-eyes and armed with a lethal sniper rifle, Jade's pinpoint accuracy is a serious threat for anyone who enters the arena. For close encounters she prefers a good old combination of stealth and homemade revolvers. The rumor says Jade joined the arena games to find the villain who killed her brother. Will she complete her dark quest of vengeance?
Abilities
Basic Abilities
Notes
Notes
Blast Vault
Notes
Stealth
Notes
Can move through other players while in Stealth.
Disabling Shot
Notes
Junk Shot
Notes
Ultimate Ability
Explosive Shells
Notes
Slightly knocks back target upon hit.
Trivia
Jade is based on Gunner from Bloodline Champions.
Jade's quote "Who shot first? Well, I always shoot first." might be a reference to the Star Wars debate about who shot first: Han Solo or Greedo.
Jade's quote "Go ahead, make my round" might be a reference to Dirty Harry, played by Clint Eastwood.
Jade's quote "I tried being reasonable, I didn't like it" is a Clint Eastwood quote.
---